GOVERNANCE BODIES:
The management bodies of the VUZF University are the Board of Trustees, the President, the Academic Council and the Rector.
The Board of Trustees adopts the development strategy of the institution and defines its educational, research, publishing and financial policy.
The President directs the overall activity and approves the annual budget, convenes and chairs the Board of Trustees meetings. In the field of international cooperation, the President is assisted by the Vice President of VUZF University.
The Academic Council is in charge of the implementation of the educational, research and publishing policy of VUZF University. The Council takes decisions affecting the academic load, forms and degrees of training of students, adopts the internal rules and regulations of the university relating to the academic and scientific activities. Members of the Academic Council are senior faculty members, lecturers, students and representatives of the administration. The Academic Council is chaired by the Rector of VUZF University.
The Rector approves the curriculas regarding the educational qualification degrees, specialities and forms of study. He is responsible for the operation of the quality management system in the university. All matters relating to admission, leaving and relocation of students are upon the Rector's final decision.
The activity of the Rector is assisted by the Vice Rector of Educational Affairs and Quality Control and by the Vice Rector of R & D and Institutional Relations.
STRUCTURE: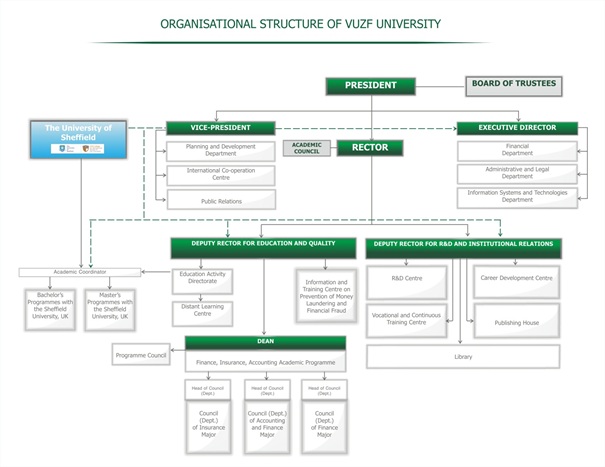 The structure of VUZF University includes basic, specialized and service units and reflects the main activities directions - teaching, research, international cooperation, institutional relations and administration.
Basic unit of the university is the Academic Program, managed by the Council of the Program and the Dean. The Speciality is an unit of the Academic Program whose management bodies are the Council of Speciality and the Chair.
The Administrative activities are managed by the Executive Director, who coordinates the activities of the Service Units at the University.