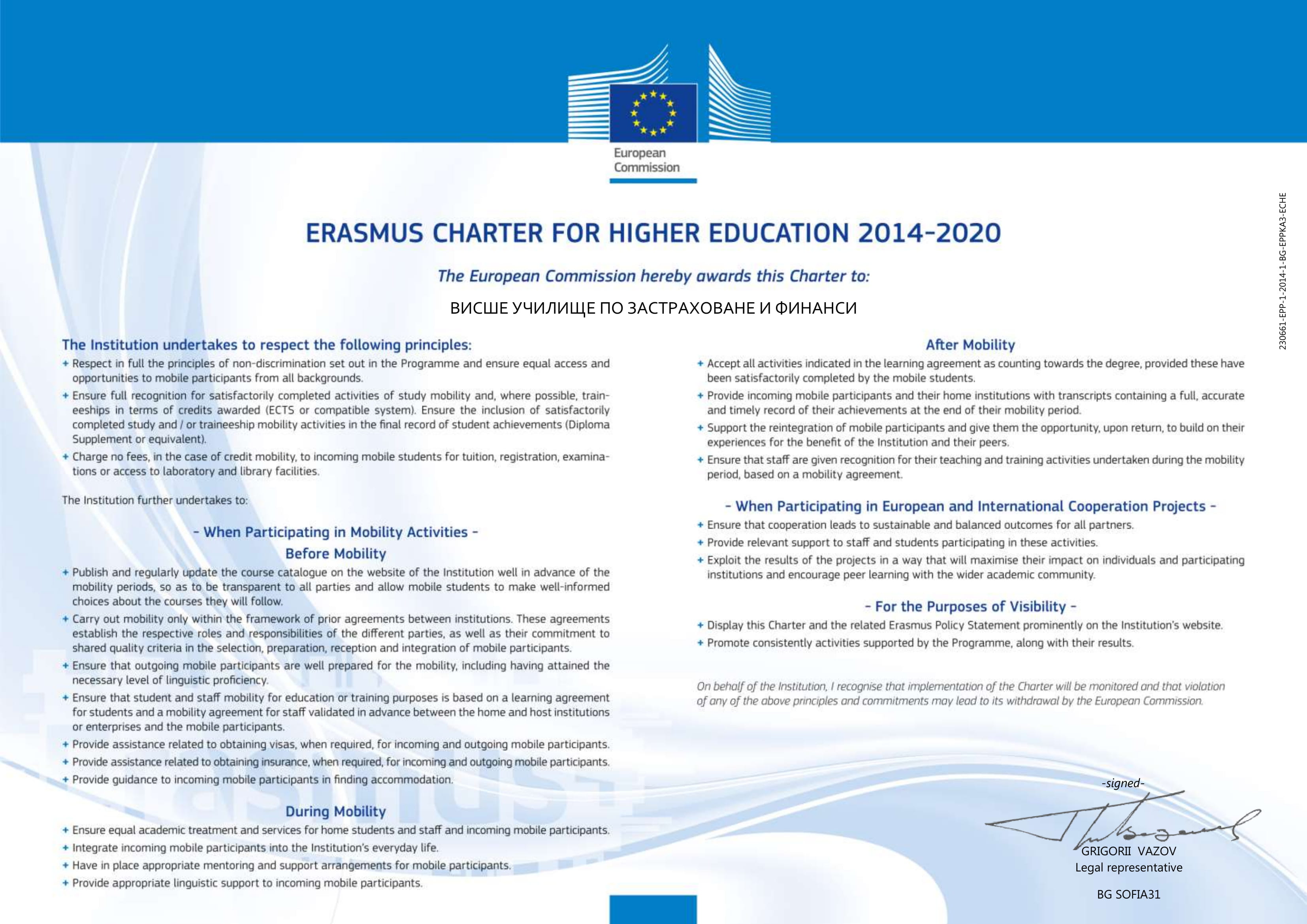 Erasmus Policy Statement
VUZF University aims to achieve and sustain excellence in every area of its teaching and research. One of the objectives of its Corporate Plan is to encourage changes in course structure that would allow increased student mobility. It also aims to enable departments to build teaching collaborations, both nationally and internationally. In line with this objective, the University intends to focus its Erasmus activities on staff and student mobility. It will participate in appropriate thematic networks and explore the introduction of Erasmus work placements.
The University aims to maintain a number of Erasmus student mobility programmes. These will bring benefit to participating students and to their peers who have gained from the different perspectives brought to their subject by incoming scholars. In order to encourage the development of new links and the internationalisation of its programmes, the University intends to support the extension of Erasmus exchanges to new subject areas. It will continue to promote the benefits within its departments and will support academic staff setting up exchange programmes in Europe and elsewhere.
The University will guarantee the highest quality in the organisation of student mobility, whilst ensuring equal academic treatment and services to home and Erasmus students; to this end, each incoming Erasmus student will continue to be matriculated and become a fully integrated member.
The opportunity to take part in teacher exchanges is important for the personal development of VUZF staff. The University also welcomes visiting academic staff and the contribution they make to its teaching programmes and curriculum development. Teacher exchanges are valued and encouraged as part of the University's policy to continue to develop bilateral and multilateral partnerships.
The Erasmus programme is promoted throughout the University. In addition, the academic co-ordinator publicises the exchanges within the departments. The Marketing Office also promotes the programme on the University website.
All students selected to take part in exchange programmes will be chosen on the basis of merit and their potential to benefit from the experience. VUZF University selects students without regard to sex, race, ethnic origin, religion or social background. Applications from students with disabilities are viewed on exactly the same academic grounds as those of other candidates. The University is also committed to making arrangements to enable students with disabilities to participate as fully as possible in student life.
The University is committed to ensuring the quality of programmes offered to students in Sofia and during study periods abroad. It is working towards identification of its courses according to the proposed national credit framework for Bulgaria and the ECTS. Periods of study undertaken by its students under the Erasmus framework receive full academic recognition and do not lead to an increase in the overall length of course of study. Academic departments will continue to work with partner institutions to ensure that incoming students receive reports, which enable them to receive appropriate credit from their home university.
All students work under the supervision of a tutor or supervisor, and are required to keep in contact with them while on exchange. The academic co-ordinator arranges pre-departure meetings for the outgoing students, who are encouraged to seek advice from the previous year's outgoing students. The reports of outgoing students on their time abroad are monitored to enable any problems to be identified and discussed with partner institutions. Each incoming student is allocated a tutor or supervisor who is responsible for overseeing their studies whilst at VUZF. Incoming students will be given assistance in finding accommodation. All incoming Erasmus students have access to the University library, its database, language and computer sources.
Also, the student's tutor or supervisor will be in regular contact with the student, and will be able to monitor the student's progress during the placement. On the student's return, they will have to certify that they have completed the agreed programme of work. This system is designed to help ensure the highest quality in the organisation of student placements. The host higher education institution for the period spent abroad gives full recognition.
---

ОБЩА ИНФОРМАЦИЯ

В края на 2007 г. Висшето училище по застраховане и финанси получи разширената Университетска харта "Еразъм", която дава право на участие в централизираните и децентрализираните дейности на Европейската програма за висше образование "Еразъм". "Еразъм" хартата открива реални възможности за осъществяване на студентска, преподавателска и непреподавателска мобилност в страните-членки на ЕС, Норвегия, Исландия,Хърватска, Лихтенщайн и Турция, стартирайки от академичната 2008/2009 година.
Студентската мобилност включва дейностите "Студентска мобилност с цел обучение" (СМО) и "Студентска мобилност с цел практика" (СМП), а мобилността на преподавателския и непреподавателски състав включва дейностите "Преподавателска мобилност с цел преподаване" (ПМП) и "Мобилност на преподавателския и непреподавателския състав с цел обучение" (МПНСО). Мобилността се осъществява на базата на сключени двустранни споразумения/договори между ВУЗФ и други университети или организации от посочените по-горе страни, одобрени от Центъра за развитие на човешките ресурси (ЦРЧР), Изпълнителната агенция по програма "Учене през целия живот".
През м. октомври 2009 г. ВУЗФ сключи договор за осъществяване на мобилности с Изпълнителната агенция за учебната 2009 / 2010 г.
През м. ноември 2009 г. ВУЗФ сключи договор с Еразъм консорциум за осъществяване на студентска мобилност с цел практика.

В края на 2009 г. студенти на ВУЗФ реализираха първите за университета мобилности с цел обучение. През 2010 г. ВУЗФ покани за гост-лектори преподаватели от Полша и Турция, които поставиха началото на входящата преподавателска мобилност в университета.
Представяне на програма "Еразъм+"
Партньори на ВУЗФ по Програма "ЕРАЗЪМ"
Студентска мобилност с цел обучение
Критерии за селекция на студенти за участие в международна Еразъм мобилност
Студентска мобилност с цел практика (актуални стажантски позиции)
Преподавателска мобилност с цел преподаване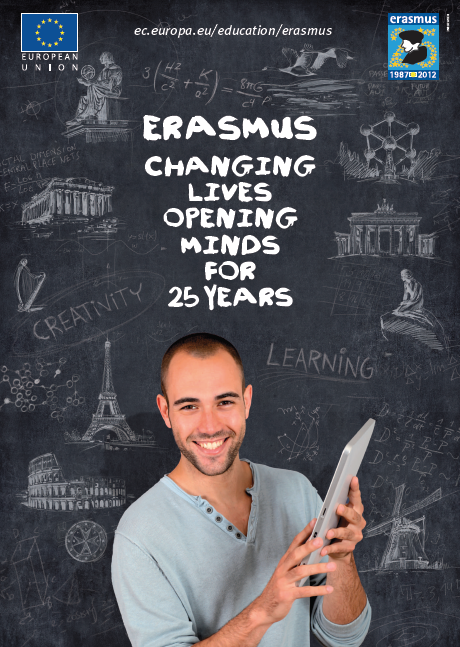 КОНКУРС ЗА УЧЕБНАТА 2013-2014 г.
Първа информационна среща за студенти - 06.11 2013 г.
КОНКУРС ЗА УЧЕБНАТА 2012-2013 г.
Първа информационна среща за студенти - 18.10 2012 г.
Партньорски университети за студентска мобилност с цел обучение 2012-2013
КОНКУРС ЗА УЧЕБНАТА 2011-2012 г.
Информационна среща за студенти - 10.11. 2011 г.
Университети-партньори на ВУЗФ за студентска мобилност с цел обучение за 2011-2012 г.

КОНКУРСИ ЗА УЧЕБНАТА 2010-2011 г.
Конкурс за студентска мобилност с цел обучение за 2010-2011 г.
Информационна среща за студенти-11.11.2010 г.
Университети-партньори на ВУЗФ за студентска мобилност с цел обучение за 2010-2011 г.
Конкурс за преподавателска мобилност

ИНФОРМАЦИЯ ЗА 2009-2010 г.
Резултати от селекция по програма "Еразъм" за студентска мобилност с цел обучение
Презентация по програма "Еразъм"
ИНФОРМАЦИОНЕН ДЕН ПО ПРОГРАМА "ЕРАЗЪМ"
За повече информация натиснете тук
ВТОРИ ИНФОРМАЦИОНЕН ДЕН ПО ПРОГРАМА "ЕРАЗЪМ"
За повече информация натиснете тук
КОНКУРС ПО ПРОГРАМА "ЕРАЗЪМ"
За повече информация натиснете тук
Одобрени места за преподавателска мобилност за 2009/2010 г.
Партньори по програма "Еразъм", с цел обучение, за академичната 2009/ 2010
University of Bologna – Italy - http://www.eng.unibo.it/PortaleEn/default.htm
Одобрен брой студентски мобилности – 1
Katholieke Hogeschool Limburg – Belgium - http://www.khlim.be/
Одобрен брой студентски мобилности – 3
Americanos College – Cyprus - http://www.ac.ac.cy/
Одобрен брой студентски мобилности – 2
Информационни брошури:
Възможности за университетите
"Еразъм" възможностите за българските студенти
Обща информация за програмата
Практическо ръководство
Правила за международна мобилност по програма "Еразъм" на ВУЗФ

За контакти: д-р Яница Димитрова
Координатор на програма "Еразъм"
моб.: +359 887 429 746
e-mail: erasmus@vuzf.bg