Prof. Virginia Zhelyazkova, DS
DIRECTOR OF RESEARCH UNIT "FINANCE AND FINANCIAL MANAGEMENT"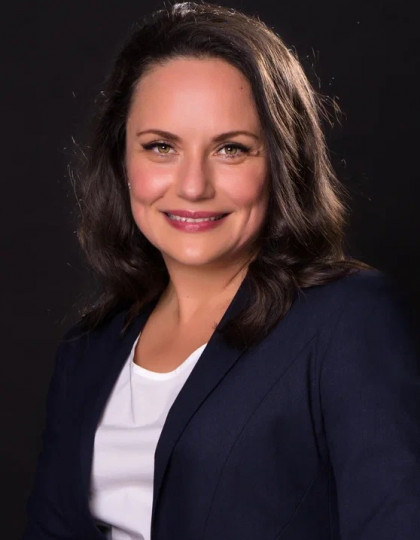 Virginia Zhelyazkova is Professor and Doctor of Science with focus on circular economy and sustainable finance. She holds bachelor degree in "International Relations" (2004) and master's degree in "International Economic Relations" (2007) from the University of National and World Economy - Sofia. She was awarded the educational and scientific degree "Philosophiae Doctor" (PhD) from the Institute of Economics of the Bulgarian Academy of Sciences (2010), and the scientific degree "Doctor of Science" (DSc) - from VUZF (2021).
Prof. Virginia Zhelyazkova has more than 10 years of combined experience in the area of the environmental, social, and governance (ESG) aspects of finance from both academia and business. She is Professor and Doctor of Science with a focus on this topic in one of the leading private business schools in Bulgaria - VUZF University in Sofia (www.vuzf.bg). Parallel to university activities, prof. Zhelyazkova has been the Environmental and Social Affairs Coordinator (2011- present) of the third largest bank in the country - Postbank. In this capacity, she is in charge of the operational implementation of the ESG strategy of the bank and its subsidiaries.
Throughout the past years, prof. Zhelyazkova has gained experience in different management roles, serving as:
 Vice-Rector for Education and Quality Management of VUZF University for two terms (October 2013-February 2022);
 Director of "Finance and Financial Management" unit at the Research Laboratory of VUZF University (2018 - present);
 Member and Secretary of the Environmental and Sustainability Management Committee of Postbank (2011- present)
 Member and Secretary of the Green Board of the bank (2011- present).
Combining research with practice, prof. Zhelyazkova has become one of the "ambassadors" for spreading knowledge and awareness of ESG in Bulgaria. She is the author of the first university textbooks in the Bulgarian language on circular economy and environmental and social risk management, as well as two books and more than 50 scientific papers on these topics. Over the years, she participated in a number of scientific forums and delivered guest lectures on ESG at universities in the country and abroad - in Italy, Cyprus, Greece, and India. Prof. Zhelyazkova has been doing training seminars related to ESG for the business as well - at the Bulgarian Stock Exchange, the Bulgarian Small and Medium Enterprises Promotion Agency, the Bulgarian Employers" Association Innovative Technologies, and others, as well as a number of internal training on this topic at Postbank. Prof. Zhelyazkova has also been undertaking various public and sectoral roles, which gave her the opportunity to be in touch with the policy agenda in the field of ESG, among which:
 She was appointed National Contact Point for Bulgaria to represent the country under the Horizon 2020 Program at the European Commission in Brussels (2013-2016),
 She is a Member of the Green Finance and Energy Center under the Bulgarian Stock Exchange;
 Member of the Union of Economists in Bulgaria;  Member of the Editorial Board of Ecology&Safety Scientific Journal.