Nikola Dimitrov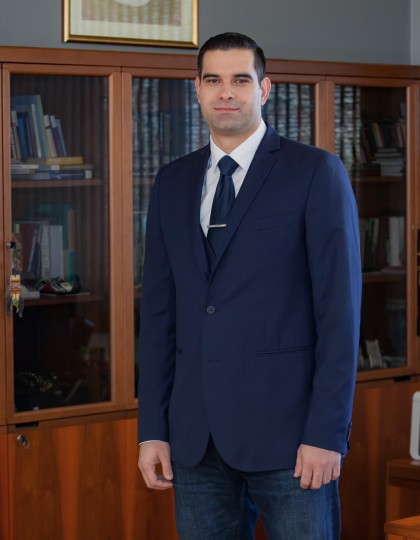 Nikola Dimitrov owns a Master"s Degree in "Technology, Innovation and Entrepreneurship". He graduated from Sheffield University, where he defended a dissertation on "Management of Complex and Chaotic Organizations in South East Europe: Key Factors and Management Tools" (October 2009). Since October 2011 he has been a lecturer at the Higher School of Insurance and Finance (VUZF), as well as a lecturer at the International Faculty of Sheffield University, UK. He teaches bachelor"s courses in IT skills for business, IT and management, Decision making with IT and Academic and transferable skills to students at the Sheffield University International Faculty, as well as Bachelor"s and Master"s courses in Sales Management, Business Process Management, Business Processes: Key Clients and Partners to students at the Higher School of Insurance and Finance (VUZF).
Nikola Dimitrov is an active "intrapreneur", a strategist and success consultant, who has worked for companies in the field of IT consulting, insurance, real estate, tourism, banking and centers for outsourced services.
Nikola Dimitrov has worked as a Lean Process and Performance Management Consultant at one of the leading Austrian banks in Bulgaria as well as an American Fortune Global 500 company focusing on: Change of culture and attitude; Improving motivation schemes; Process efficiency and optimization; Strategies to increase sales; Branch network optimization; Coaching lessons and more.
Nikola Dimitrov has participated in projects such as: Integration of CRM systems; Planning, management, marketing and sales of real estate; Creating Online Banking; Creating Mobile Banking; Creating self-service areas and more
His profile includes extensive experience in business communications, between cultural communication and presentation skills (speaking to the public), training, coaching and mentoring. Nikola Dimitrov is regularly invited as a guest lecturer for various academic, charity and business events.
His interests and ongoing research include game theories and gamification of educational and business. Other interests include change management, coaching, sales, and network marketing.
Since 2014, he is a lecturer at the VUZF Summer Children"s Academy, where he leads topics related to the future of banks, entrepreneurship and leadership skills.
From 2015 he is a mentor at HiAchievers.com, an academy for leadership and presentation skills development for teenagers, and a mentor at Junior Achievement Bulgaria.
Since 2016 he has been actively engaged in his favorite sport as a volleyball coach and in the season 2017 he became the assistant coach and personal development coach Volleyball Club Levski Sofia.