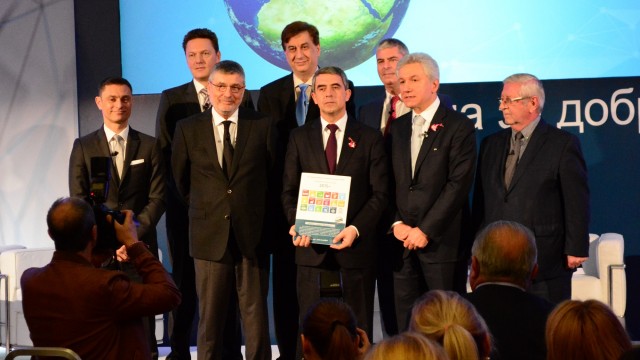 "THE BUSINESS – A FORCE FOR GOOD"- a discussion meeting organized by United Nations Global Compact Network Bulgaria
The President of VUZF, prof. Grigorii Vazov and the Vice President of the university Detelina Smilkova was part of discussion-meeting, organized by the United Nations Global Compact Network Bulgaria. The topic of the meeting was "The Business-a force for good". During the event was discussed the UN Sustainable Development Goals. The meeting took place on 1st of March, at "Hilton" hotel.
After the beginning of the meeting, the President of the Republic of Bulgaria, Mr. Rosen Plevneliev presented his vision on Bulgaria's involvement in the implementation work on the Goals. The Global Compact Local Network in Bulgaria (GCLN Bulgaria) organized the event in order to declare that it is aware of the responsibility and the chance to prove to the society that the business has an important constructive role and will be the proactive side in outlining the road and the implementation of the Goals.
The second part of the meeting includes panel discussions, concentrated on the Global Goals of UN. Assoc. Dr. Grigorii Vazov, as a president of University of Finance, Business, and Entrepreneurship, participate actively as panelists in the discussion. He opened the discussion for Goal 4 "Ensure inclusive and quality education for all and promote lifelong learning"
Except Assoc. Dr. Grigorii Vazov, the other panelists in the discussion was:, Mr. Spiros Nomikos, Solvay Sodi (JSC), Mr. Tim Kurth, Aurubis Bulgaria (JSC), Mr. Garry Levesley, ContourGlobal Maritsa Iztok 3 (JSC), Mr. Sasho Dontchev, Overgas Inc. (JSC), and Mr. Stefano Costa, Devnya Cement (JSC).
In the second part of the event was marked the 5th anniversary of the GCLN Bulgaria.