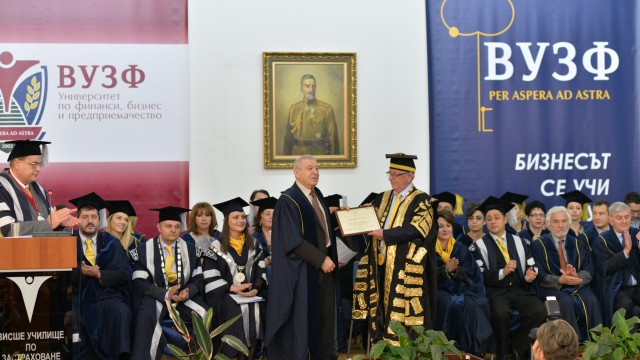 The Reporting Conference of VUZF broadcasted its award winners
The Reporting Science Conference of VUZF was held on 3rd of December 2015. During the forum were presented works of teachers and students in VUZF with a focus on current scientific and applied topics. Full conference program can be found HERE.
The Conference broadcasted winners in the held contests "Senior scholars of VUZF 2015" and "Young scientist of VUZF 2015". The winners were awarded honorary diplomas during the Graduation ceremony of the Class of 2015 in the crowded auditorium.Professor. Doctor of Economic Sciences Mr. Metodi Hristov received the award for long active research, as well as for his contribution for a scientific article in SSRN. Prof. Dr. Sava Grozdev received an honorary diploma for active research and publication activities, and for raising the prestige of VUZF with the second prize of the European research project Le-Math contest EAPRIL 2015. Prof. Dr. Snezana Basheva received an award for active scientific and expert activities - including her direct participation and contribution in the development of the new Accounting Act, which came into force on 01.01.2016. Assos. Prof. Grigor Dimitrov, PhD was awarded for active research and consulting, as well as direct participation in the work of public and state authorities and raising the prestige of VUZF through active media appearances. Assoc. Prof. Stanislav Dimitrov, PhD was awarded in the category "Young scientist VUZF 2015". In the category "Student of VUZF 2015" was awarded Isidore Karadimov, "Financial Management and Marketing", III course.
Photos from the winners awerding of The Reporting Conference of VUZF are available HERE.