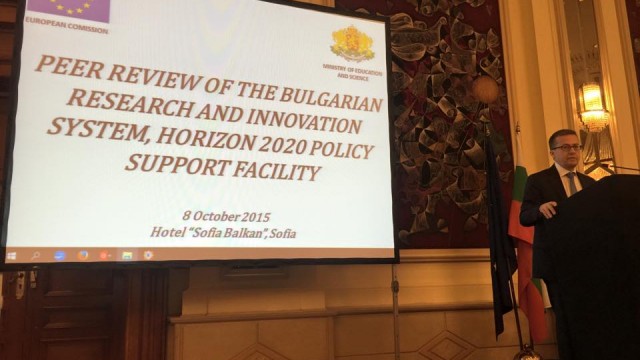 VUZF University took part in public discussion of a peer review of the Bulgaria Research and Innovation System, presented by Mr. Carlos Moedas, European Commissioner for research, science and innovation
Assoc. Prof. Evgeni Evgeniev, Vice-Rector for European Projects and Further Education at VUZF University and Dr. Radostin Vazov, Executive Director at VUZF University, took part in a public discussion of peer review report, commissioned by the European Commission for the evaluation of the national innovation system of Bulgaria. The working meeting took place in Sofia on October 8th, 2015 and it gathered representatives of the academic environment and state institutions, who heard about 10 priorities. They were presented by Mr. Carlos Moedas, European Commissioner for Research, Science and Innovation. Prof. Todor Tanev, Minister of Education and Science, and Prof. Kostadin Kostadinov, Deputy Minister of the Ministry of Education and Science thanked the European Commission and the peer review panel for doing an outstanding job.
The report recommends that the Bulgarian government increases public financing for research and science to at least 1 % of GDP until 2020.; improves the trust in the system through the Council for Economic Growth; creates independent and robust national research agency; supports through competitive funding the good performance of universities and research institutes; encourages the participation of Bulgarian scientists and entrepreneurs in European programs; supports professional career development in science fields; creates conditions for development of the national innovation eco-system, etc.
The peer review panel, which developed the report, is represented by top scientists from Austria, Germany, Ireland, Netherlands, Norway, Poland, Portugal, Slovenia, Spain and UK. They visited Bulgaria in April and June this year. Assoc. Prof. Evgeni Evgeniev took part in two working meetings with the panelists and provided a thorough commentary on the first draft of the report of the peer review panel in July this year.