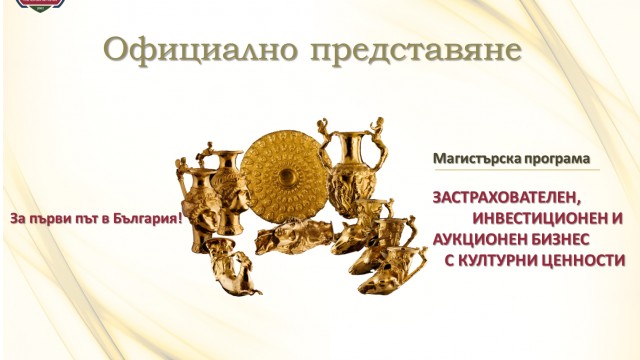 "Are Bulgarians ready to invest in a new type of education? "
With this question Prof. Grigorii Vazov, VUZF University's rector, opened the event for the announcement of the first and only one in Bulgaria, Master degree program in "Insurance, investment and auction business with cultural artifacts."
His words were supported by Dr. Valentina Grigorova-Gencheva, leading expert on authentication, identification and evaluation of cultural artifacts, founder and director of "Gold and Numismatics" department in First Investment Bank. According to her, such discipline, with so complete program doesn't exist not only in Bulgaria, but also in the world.
The event took place on 1st of October 2015 in the Exhibition Centre of the Union of Bulgarian Artists on 6 "Shipka" Str., and it was hosted by the jubilee exhibition of Adrey Yanev, "Return of the shepherds", which made it even more attractive and unconventional.
The presentation of the Master program brought together prominent academics, as well as specialists in the field of assessment, auditing, insurance and trade in cultural artifacts, artits, and representatives of the academia, museum workers and others. Among the official guests was Professor. Kostadin Kostadinov, Deputy Minister of Education, Mrs. Violina Marinova, CEO of DSK Bank, Mr. Costa Cholakov, Chairman and CEO of DZI, Mr. Orlin Penev, Deputy Chairman and Executive Director of "Allianz Bulgaria", Mr. Emil Kalo, vice president of the World Jewish Congress and others.

More details on the Master program can be found http://artinsurance.vuzf.bg/

Atmosphere on the event HERE.